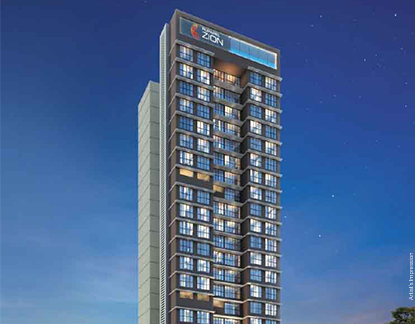 Live in 'Sion'
embrace a life full
of conveniences
Multiple important factors influence one's decision when it comes to choosing the ideal home for himself and his family; such as the portfolio of the developer, pricing, quality of the construction, legal clearances & compliances, etc. However, better connectivity and proximity to commercial hubs is the important most factors when it comes to choosing a house, especially in a city like Mumbai, where people spend hours for travelling between home and work.
A well-developed social infrastructure is another factor that buyers take into account while selecting their perfect home.
There would be just a few locations in Mumbai city which would be as desired for home buyers as Sion is. Sion's history goes back into the 15th century. The Marathi name for Sion is Sheev which means boundary. In the 17th century, the village formed the boundary between Mumbai and Salsette Island. The British named it marking the end of the city. The name remained thereon.
Today, Sion is one of the most important localities in central Mumbai and has a well-developed connectivity ecosystem. With many important commercial hubs nearby, Sion is an ideal location to stay with easy connectivity to several important localities like Bandra, Chembur, etc.
As per online sources, the latest price movement in Sion is a good indicator of steady growth; hence it's one of the best locations in Mumbai to buy residential properties for investors as well as end-users. The price trend recommends both buying and renting residential properties in Sion is profitable and a high ROI for the buyers is indicative.
Sion has one of the most advanced connectivity networks with major road and railway networks around. One of the most important railway stations in Mumbai city is Mumbai Central Railway Station; which is just within a circle of 8 kms from Sion. Mumbai International Airport is not far, too. From Sion, it's about 11 kms and with the superior road networks between Sion and the Airport, the travelling time is within a very comfortable range.
Another advantage of choosing Sion as your residential address would be its proximity to several commercial nerve centers. For the professional class, it's a matter of a short driving distance to reach Bandra-Kurla Complex, which is the biggest business hub in suburban Mumbai. Similarly, Sion's proximity to other commercial hubs such as Nariman Point, Vikhroli, Andheri, makes it a sought-after destination as far as the business fraternity, as well as the working class is concerned.
Sion has many important educational institutions and healthcare centers in and around which makes it one of the most sought-after residential locations of Mumbai.
A four-lane BKC-Chunabhatti flyover that offers faster connectivity to the arterial Eastern Express Highway in Mumbai has been opened for the motorists on November 10, 2019. This flyover reduces travel time by 30 minutes between Sion and Dharavi.
If you are looking for a property in Sion, one of the most renowned developers of Mumbai, Ruparel Realty has its iconic project Ruparel Zion on Namdev Koli Marg, Sion. Located next to the Sion circle, the project is an ideal residential address. Surrounded by pristine greenery and modern developments, Ruparel Zion is an address of perfection. It's a magnificent G+21 storey tower consisting of premium 2 BHK residences. The project has the finest of the smart amenities for the ultimate comfort of its residents, for example, exclusive health & recreation avenues on the rooftop, well-equipped Gymnasium, Hi-tech surveillance system, etc.
So, if you are considering Sion as your preferred location to buy your home, choose Ruparel Zion to live an iconic life.
Information sourced from online publications