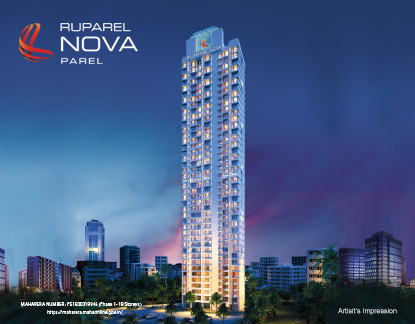 Ruparel Nova:
A success story of ingenious
ideas & astounding customer response
We are a leading real estate developer in Mumbai, who have always been known for innovating in the field of residential real estate development. The story of our iconic project Ruparel Nova is no different. In the southern part of Mumbai, availability of quality 1 BHK apartments in new projects is rare; We at Ruparel Realty have narrowed the demand-supply gap in this segment with our project 'Ruparel Nova' located in Parel. This project was launched on 23rd March 2019 and within 15 days, over 80% of the inventories in this project were sold out, adding it to our success stories.
Parel has always been a sought-after location in south Mumbai, for the house-hunters. The location also enjoys excellent connectivity and is ideal for the working population as all the major commercial centres in Mumbai are easily accessible from here.
For the home-buyers who were looking for 1 BHK residences in Parel, we have provided an ideal answer in Ruparel Nova. The project is 40* Storeys tall and overlooks the majestic Arabian Sea. The biggest USP of our project is the maximum floor space starting from 368 sqft and equivalent carpet area of 374 sqft. A gated tower, Ruparel Nova contains grand amenities such as Multilevel Car Parking Tower, World-class Fitness Club, Hi-tech Security & CCTV Surveillance, Well-stocked Fruit Juice & Salad Bar, WiFi Gaming Zone with Virtual Simulation Games etc. However, the really indulging feature of our project is the exclusive Sky Deck with Observatory.
Exclusive Sky lifestyle is a unique offering of our project Ruparel Nova. The Sky deck of the project has a Café with Luxury Lounges, a magnificent observatory, a Refreshing Sky Pool with Poolside Deck etc. A resident of Ruparel Nova is truly spoiled for choice, when it comes to living a luxurious life, high on the top!
According to a statement by our Managing Director, Mr. Amit Ruparel that after an extensive market research, Ruparel Realty realized that there was a crunch of 1BHK projects in Parel and hence we decided to launch Ruparel Nova which is built on the unique concept of bringing forth affordable yet plush units in the heart of city.
Our entire team at Ruparel Realty has also profusely thanked each of the home-buyers who have purchased home at Ruaprel Nova. We would also like to mention that without the overwhelming support from the buyers, the success story of Nova could not be written!